Painting on fabric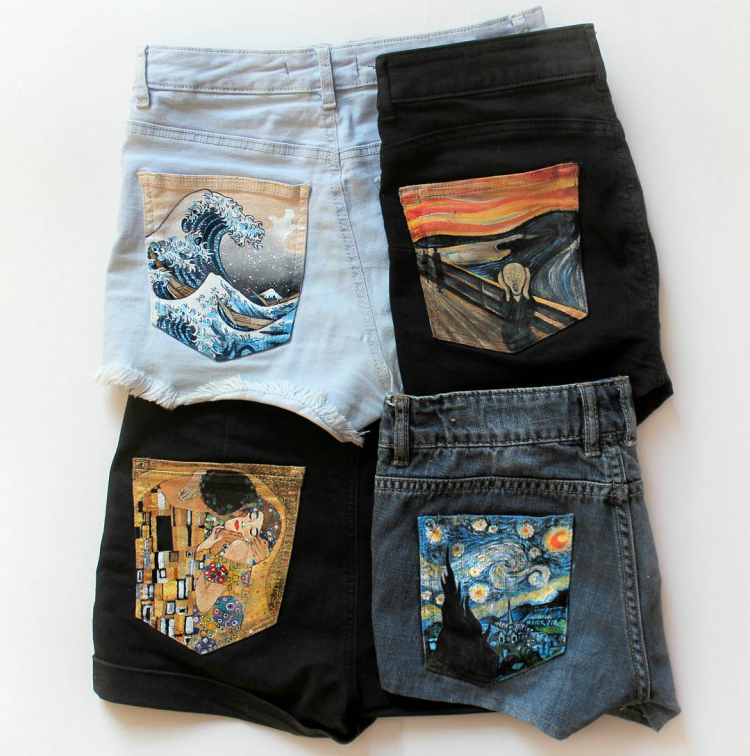 Painting on fabric is a great way to breathe new life to an old, plain t-shirt, boring tank top, or any other piece of clothing! Mastering this technique will allow you to easily transfer your ideas to any fabric and create unique pieces for your wardrobe or your home décor. Follow our tutorial to learn how to create your drawing, transfer it to any fabric, and bring it to life!
Fabric paints
Acrylic, polymer-based paints are the best choice for fabric painting. Their pigments don't actually go through the fabric – instead, they coat with a "protective layer", making the fabric structure denser and less elastic. 
Paint will make any fabric vibrant, colourful, and unique. Acrylics have an added bonus here – they are waterproof!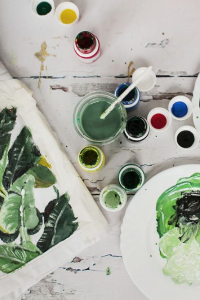 Why choose acrylics
Acrylics really are the best choice for painting on fabric – if you don't believe us, just look at how popular they are among enthusiasts and professionals alike. So what makes them so great?
– Wide range and availability
– Safety and ease of use
– Option to use water to dilute them
– Water resistance, detergent resistance
Acrylics are also easy to mix, allowing the artist to experiment with new, original shades. Setting a layer of acrylic paint is easy as well – all you need is a warm (not too hot!) iron.
Acrylics can be used on clothes, but also shoes, purses, or other items – for instance, you can decorate your own umbrella!
Paint manufacturers usually indicate what types of fabric are suitable for use with the paint:
If the package says "silk", the pigment is designed for painting on soft, thin fabrics like silk, batiste or chiffon. 
A label that reads "Textile" means you can paint on denser fabric, leather, velvet, and suede. 
On a dense fabric, an acrylic stencil can look very nice as well, with the fabric's density allowing for clearly defined edges and vibrant colours.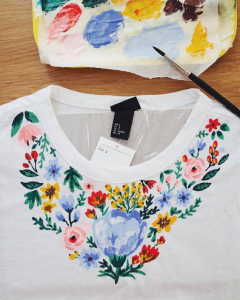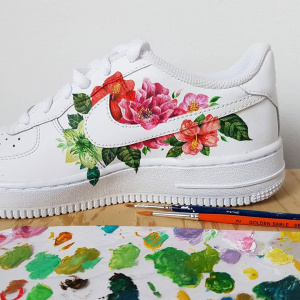 Preparation
Before you start painting, take time to prepare your fabric properly and carefully by submerging it into cold water for about an hour and then slightly stretching it. Rinse with clean water, then let your fabric dry and finish preparations by ironing it.
If you are using a thin fabric like silk or batiste, stretch it on a wooden frame and let it dry completely. If you want to work on a piece of clothing it is best to separate the layers (like front and back) with a piece of cardboard or thick paper.
Painting techniques
There are certain rules you should keep in mind when applying the paint:
Make sure to put an impermeable foil or wax paper under the fabric you are painting on to protect your desk (or whatever surface you are using to work).
If you are using a stencil or pattern, work the way you would with a colouring picture for children. The only difference is that when applying acrylics in layers, you need to wait for the previous layer to dry completely before adding the next one.
Apply light colours first, then move on to darker shades.
Stick to these simple rules and create your own amazing acrylic-decorated fabric that will last through repeated washing! Find some awesome inspiration and dive right into it. Good luck! 😊