How to use acrylics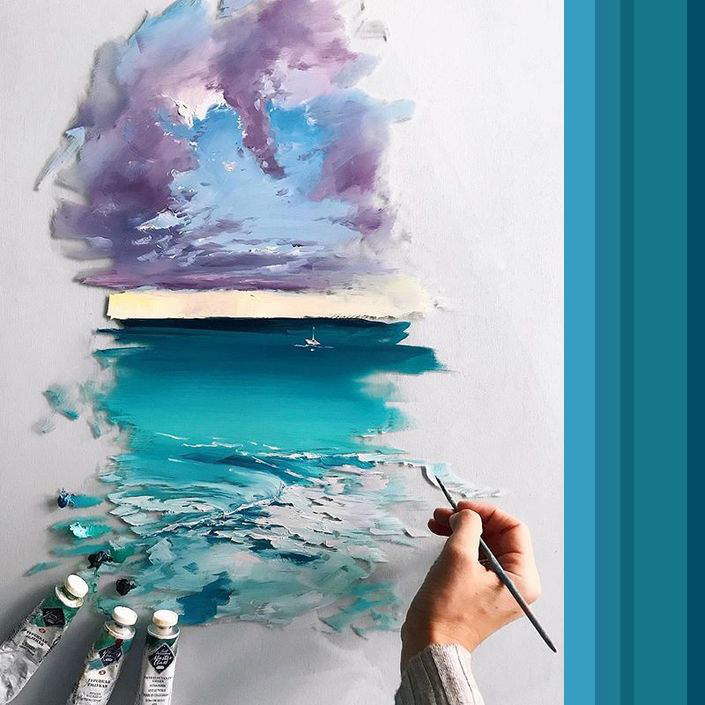 Have you been painting for some time now and decided that it was time for something new? Acrylics should be right on your radar! Thanks to their plastic base, acrylics give paintings an interesting volume and structure, while using them isn't any more difficult than using watercolour. Finished paintings don't need to be fixed – acrylics maintain their bright colours, are waterproof, and long-lasting.
1. Acrylics – what are they?
2. How to create a base for your painting
3. Learn to paint with acrylics
4. Useful tips and tricks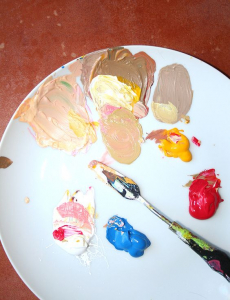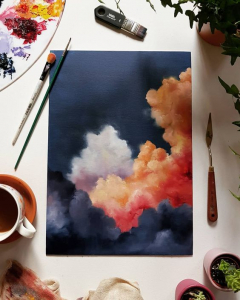 Acrylics – what are they?
Acrylics entered mass production rather recently, some 50 years ago. Thanks to their versatility and long life, pigmented acrylic resin quickly gained popularity and today, it's used by painters, but also by interior artists who use them to create murals, or even builders and manicurists.
There are different types of acrylics, too. You would be wise to choose special, thick acrylics to decorate a wall or a ceiling since they can add volume and bring colour, realism, and a unique touch to the interior décor. For traditional canvas painting, less concentrated paints work better, and you can usually buy them in tubes. Working with acrylics is especially fascinating for beginners who can use them to discover their artistic abilities step by step.
How to create a base for your painting
Before you run to grab your paints, you need to make some basic preparations. You can use a wooden board or plywood as your canvas or go for a traditional canvas as well. You can also use paper, which is the best option for beginners who have just started working with acrylics.
Make sure to get thick paper with a rough surface – you will need a firm surface to apply acrylic paint properly, so make sure to tape your textured paper to a wood board if that is your canvas of choice.
Use a book to remove any air bubbles and voila, your canvas is ready! If you decide to make our own wood frame canvas, you will have to sand it first because acrylics do best on a smooth surface. Beginners often wonder what kind of a surface is hidden beneath the acrylic paint.
If you decide to go for boards instead of canvas, you will need to apply a base layer of acrylic paint that you can buy in any art supplies store. It's a special emulsion with titanium dioxide that works as a whitener. Apply several layers of this primer to your board and let it dry for a day.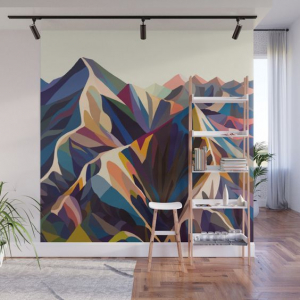 Learn to paint with acrylics
Before you begin, make sure your paints haven't dried out and keep the palette with your paint wet when you apply the first strokes. A spray bottle is a handy tool to have since you don't need to pour a ton of water on the acrylics at once. Use an absorbing paper – placing it under your palette is a smart idea.
Check how transparent or opaque your paint is – the more water you use, the more transparent the strokes will be. Use the large brushes first and start with big, broad areas, then make your way to smaller brushes and details. Painting with acrylics on paper or wood board requires total concentration and precision. Use a mirror to check your work's proportions from time to time.
Beginners often have trouble mixing acrylics. You can dilute your paints a bit more before mixing – this way, the colours will stay "open" longer, which makes it easier to achieve the desired result. Make sure to only use the tip of your brush. To get a clear contour, you can use masking tape or painter's tape that you can easily buy at any hardware store.
If you need to lighten or darken a colour, try adding white or black. To clean a palette that was used for acrylics, use any solvent suitable for acrylics.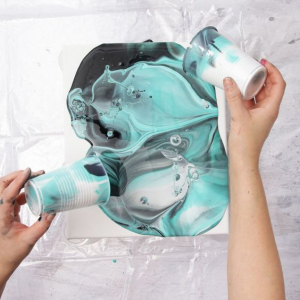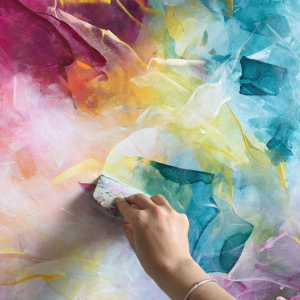 Useful tips and tricks
Applying acrylics to wood or paper is a fun creative process full of surprises. Here are some tips and tricks for you to make it even more fun and encounter fewer unpleasant surprises.
The colours will darken significantly once dry, so keep that in mind when you're choosing them. Use non-toxic materials – they are more expensive, but they are worth it. Don't forget to wear an apron to protect your clothes. 
Apart from professional brushes with long handles, paints, and canvas primers, consider also getting some decoupage glue and a spray bottle to fill with water.
When choosing a palette, opt for a plastic one – it's practical and easy to clean. Don't forget to always have a cup of clean water nearby to rinse and wet your brushes.
Once mastered, acrylics offer immense possibilities and you can create all sorts of masterpieces! Patience, practice, and the right supplies are the key to impressive results.
Would you like to try working with acrylics? Come to Draw Planet and join our acrylics course. Together, we can do it!